Profile Requirements
Creating your teacher profile is pretty straightforward, but it helps if you understand a few things first….
For your registration to be accepted, you must:
Be a genuinely bilingual or native English speaker.
Be living and able to work legally in Italy, and be able to demonstrate this.
Have a valid codice fiscale and legal residence.
Provide a photo and complete description to be used on the site.
Agree to our website terms.
Provide accurate and comprehensive information for your profile listing.
Profile Descriptions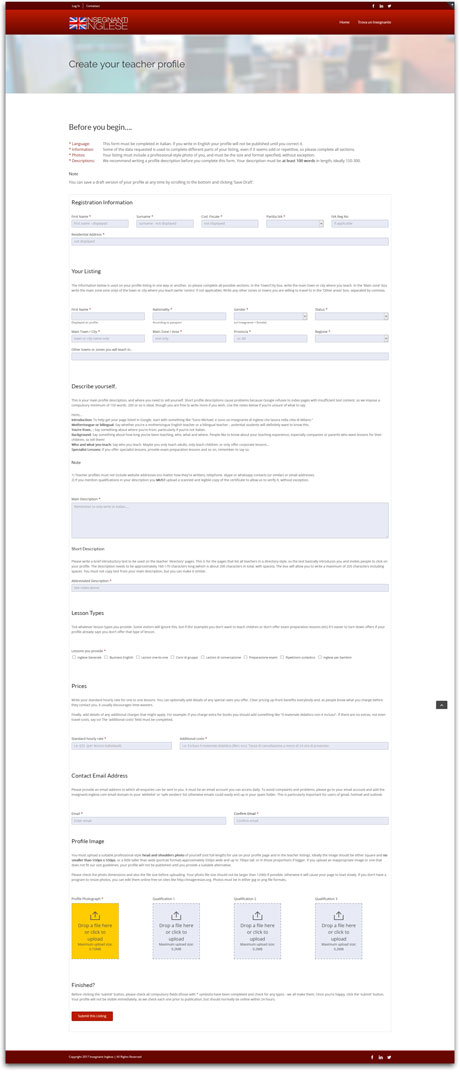 The most important part of your listing is your profile description. It needs to be long enough for Google to index your page and also needs to sell you as a professional language teacher. This means no less than 200 words, all in Italian. As most of the people who read your profile will be Italians wanting to learn English, describing yourself in English would be daft, so we don't allow it. All sections of your profile listing must be written in Italian. If your Italian isn't so hot, get a friend to help you out. We've all done it.
Teaching Qualifications
Teachers who list relevant teaching qualifications in the profiles get better results than those who don't, so if you have qualifications such as a CELTA or TEFL certificate, be sure to mention them in your description. To ensure transparency, if you mention a qualification, you must upload a legible, scanned copy of the certificate so that we can verify it is valid. The certificate itself isn't displayed on your profile. Of course, you don't have to list qualifications, whether you have them or not.
Teacher Photos
You are required to upload a photo of yourself to be used on your listing. The photo must be a simple professional-looking head and shoulders photo. No other type will be accepted.
Photos must be either square or slightly taller than wide. The ideal size is 550px wide and no more than 650px tall. Images can be larger than this but must be in the same proportions, so please crop your photo to an acceptable size and shape before you upload it. If you don't have an image editor like Photoshop, there are plenty of websites which allow you to upload and crop images online. Image files must not be larger than 120kb and must be either png or jpg format.
Madrelingua?
If you are Italian or from any other country in which English is not the national language, do not describe yourself as 'madrelingua' unless you can demonstrate that this is the case. If in doubt, assuming you can speak Italian, please describe yourself as 'bilingue'. Where we have doubts, we will request an explanation.
Not allowed
This site exists to help teachers offering face to face lessons. That means we do not permit teachers to advertise other types of service such as skype lessons, online courses, overseas courses and so on.
Telephone numbers, email addresses and website urls cannot be shown in your profile description, no matter how they are written. Visitors can contact you via your email contact form.
In addition to the above, all teachers are bound by our site rule, which can be found on our terms and conditions page
A simple test
You're an English teacher, so the last question on the profile creation form should only take you a minute or so to answer. You will find a question asking you to explain a part of English grammar in simple terms, in your own words.